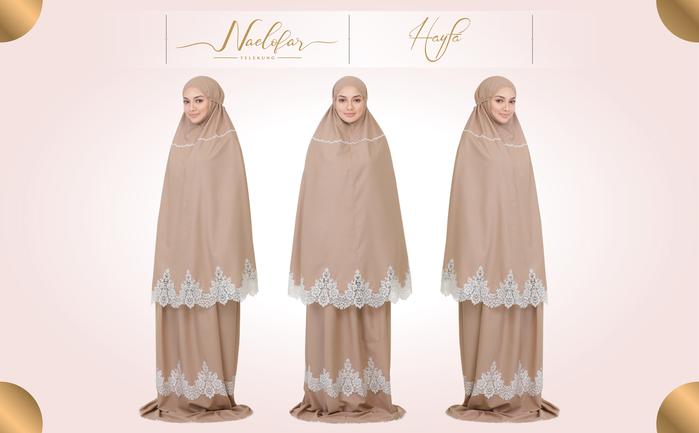 NAELOFAR TELEKUNG - HAYFA
Prayers are an integral part of a muslimah's daily routine. It's our way of showing our devotion to our creator which is why choosing the right garment is really important. Comfort and practicality are the two main factors that we should consider when we are making this decision.
Our latest telekung design, Naelofar Hayfa ticks both boxes. Beautifully crafted and adorned with borders of floral Duchess lace, this telekung is not only pretty to look at but it is also comfortable to wear. The cotton material is breathable and cooling, light enough to wear in any climate yet opaque enough to keep you amply covered.
Hayfa is an Arabic girl name that means slender and well-shaped. Our new telekung design echoes this meaning in its slim and lean silhouette. The extra length on the top and bottom garments deliver full coverage, making sure no skin is shown when your are performing your prayers. The face opening can be adjusted using the tie backs on each side so you can tighten and loosen it according to your preference.
Naelofar Hayfa will be available in 30 attractive colours, so there's plenty to choose from, perfect for yourself or as gifts for family and friends, they will love it as much as you do!
---
Sorry, there is no product in this collection